August 28, 2023
How to Pay Cash with Uber: A Step-by-Step Guide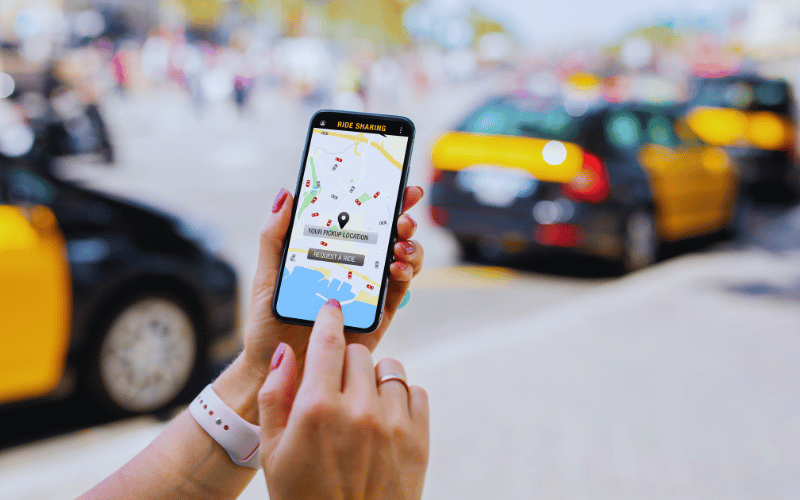 Ready to discover a nifty trick that'll let you pay for your Uber rides with cash? You heard it right – forget about fumbling for your credit card or worrying about those monthly bills. 
In this guide, we'll spill the beans on how to pay cash with Uber and show you how to do it step-by-step. It's time to ditch the plastic and embrace the convenience of paying cash. So buckle up and get ready for a cash-tastic adventure with Uber! Let's roll!
Why Uber Cash Payment is a Good Option? 
Picture this: You're hopping into an Uber, ready for your adventure to begin. But instead of reaching for your trusty credit card, you whip out some cash like a smooth operator. It may seem old school, but there are some mighty good reasons why paying cash with Uber is a great option, including the following: 
Skip those Credit Card Fees
When you pay with cash, you can save yourself from those pesky credit card charges that magically appear on your statement. Say goodbye to those extra pennies and hello to more pocket-friendly rides! 
Budget Like a Pro
We all know that setting budgets can be a real snooze-fest. But guess what? Paying with cash allows you to keep a tight grip on your Uber charge spending. Simply withdraw the exact amount you're willing to splash out on your Uber travels, and bam! You've got an automatic budget that won't have you crying over financial mishaps.
No Credit Card? No Problem!
Not everyone rides on the plastic express, and that's okay! Whether you're still building credit or just prefer the cold touch of cash, paying the traditional way means you can enjoy Uber's convenience without needing a credit card. Accessible to all – that's the way we like it!
Setting Up Your Uber Account for Cash Payments
Before you can start paying with cash, you need to add cash as a payment option to your Uber account. Here's how to do it:
Open the Uber app on your phone.
2. Tap on "Account" in the lower right corner.
3. Select "Payment" from the menu options.
4. Tap "Add Payment Method" then select the cash option
5. Follow the on-screen instructions to set up cash payments in your account. You may also set it as your default payment method.
Note: In some countries, you may have to provide additional identification or make a cash deposit before being able to use cash payments with Uber.
Requesting a Cash Payment for your Ride
Once you've set up cash payments in your Uber account, requesting a ride with cash is easy. Here's how:
1. Open the Uber app and enter your pickup location and destination.
2. Choose "Cash" as your payment option. Confirm your ride details and tap "Request."
3. Wait for your driver to arrive and complete your ride as usual.
4. When you reach your destination, pay your driver in cash.
If you need to cancel your ride for any reason, you can do so in the app and won't be charged a cancellation fee if you're paying with cash.
Paying for your Uber Ride with Cash
Now that you've requested your ride and arrived at your destination, it's time to pay your driver with cash. Here are a few things to keep in mind:
Make sure you have enough cash for your ride before getting into the car. You can estimate the cost of your ride in the app before requesting it.

Tell your driver you're paying cash before the ride starts to avoid confusion.

Your driver will tell you the total fare when you arrive at your destination.

Give your driver the exact amount in cash. Some Uber drivers are not able to provide change, especially for large bills, so it's important to have the correct fare ready.

If you want to tip your driver, you can also do so in cash.
Bottomline 
There you have it. We've covered everything you need to know about paying with cash on your next Uber ride. Setting up your account for cash payments is a breeze, and requesting and paying for your ride is just as simple. Plus, paying in cash means you can avoid those pesky credit card fees and even bond with your Uber driver over those green bills. 
Please note that Uber regularly updates its policies and features, so we recommend you visit the official Uber website or contact customer support for the most up-to-date information and procedures. 
Also, keep good financial habits in mind – such as budgeting and tracking your expenses – so you can make the most of every ride without breaking the bank.
So go forth, hop into that Uber, and pay with confidence. After all, with these simple tips and tricks, you'll be a cash-paying pro in no time. Until next time, happy and safe travels!  
Frequently Asked Questions
What Cities Can You Pay Cash for Uber?
While Uber mainly operates on a cashless model, cash payments are available in select cities where credit card usage might be limited. Check the Uber app to see if your city offers cash payments.
Can You Pay Cash with Uber Eats?
Yes, in certain areas, Uber Eats allows cash payments upon delivery for users without electronic payment options. Choose the "Cash" payment method when available in your region. 
How to Pay Cash on Uber Eats?
If cash payment is an option, follow these steps:
Order and add items to your cart on the Uber Eats app.

Choose "Cash" at checkout.

When the driver arrives, provide the exact cash payment.
Note that payment options can vary by location. Always refer to the app for the latest information.